American Festival of Microtonal Music
By Carol K. and Pamela Baron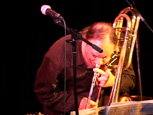 For its 27th season, the American Festival of Microtonal Music moved downtown to the Bowery Poetry Club, where Johnny Reinhard, its director, presented three concerts of eye-opening variety.
The remarkable roster of performers, discussed below, headlined the renowned bass trombonist Dave Taylor, who performed in all three concerts.

The first program on April 29th put the spotlight on the microtonal sounds of MicroJam, a new group in the world of jazz fusion. Its improvisations could be melodically mesmerizing, including "expressive" blue notes, occasionally suggesting an exotic Middle-Eastern flavor, yet the players share a surprisingly intense harmonic, or chordal, awareness. The artists are David Fiuczynski and Simon Yu on double-necked, quartertone guitars; Justin Purtill on string bass; and the percussionist Jovoll Belles. The following comments try to generalize about a highly varied set of improvisations by an amazingly skilled and interesting group. Rhythmic and melodic interest was distributed among the players, with Belles sometimes mirroring melodic rhythms when not providing a supportive rhythmic counterpoint, and the melodic instruments occasionally functioned percussively, all contributing to tight interactions as well as virtuosic solos. The last of this set of six works was entitled "Moon Ring." No program notes were provided, but we will venture to suggest one: imaginative cameos, consisting of the sounds of heels and people rushing by, ambulances passing at hyper speeds, trains, trucks, and horse carriages, emerging from the optimistic background energy of a city coming to life in the morning. There is something Ivesian about the conception.
An improvisation by Dave Taylor preceded his performance of Johnny Reinhard's composition "Zelig Mood Ring." The latter composition, inspired by Woody Allen monologues, is expressive and introspective at the same time, with typical Allen sound-bites followed by their corresponding musical metaphors.
Following the Taylor solos, Reinhard and Taylor improvised a duet. This was an interesting pairing of woodwind and brass timbres, in which the close interplay between the performers led them to match sounds so closely that the instruments were often indistinguishable. The evening ended with MicroJam joining Reinhard and Taylor in an improvisation of extraordinary vitality. Opening with simple woodblocks backing the alternation of the two soloists, the piece drew energy from the work of percussionist Jovoll Bell and the virtuosity of Taylor and Reinhard. The audience enjoyed a joyous send-off.
The second concert in the series, on May 2, presented an entirely different facet of contemporary microtonal music: new works for wind instruments, composed by Kyle Gann, Elodie Lauten, Joseph Pehrson, and Johnny Reinhard. The performers–flutist Jennifer Grim, clarinetist Hideaki Aomori, oboist Ron Kozak, bassoonist Johnny Reinhard, English horn player Rheagan Osteen, and percussionist Christine Bard– gracefully met the exacting challenges required to conscientiously present microtonal music in the various tunings asked for. If the performances felt tentative sometimes, that happens at first performances of works even without the added worry of microtonal tunings.
The program opened with Kyle Gann's somewhat minimalist work "The Day (Revisited)," calling for electronic keyboards–played by the composer, assisted by Johnny Reinhard–flute, clarinet, and electric bass guitar, the latter played by the composer's son Bernard Gann. "Just intonation" is Gann's preferred microtonal system, in which the intervals, derived from natural fifths and thirds in the overtone series, produce totally consonant sounds within a limited range of keys, which are especially notable in the pure triads that the composer takes advantage of–using occasional "growling" intervals for contrast. (In passing, I want to mention that Charles Ives's father, George Ives, taught just intonation instead of equal temperament to his choirs because it sensitized the singers to the unambiguous, psychologically sensitive, relative relationship of each tone–i.e., their microtonal variants–to the tonic note in the a capella diatonic music they sang.) In Gann's music, notable convergences of the voices result in strangely haunting, ecstatic harmonies that build as the work progresses, ultimately becoming the rule rather than the exception, They are unified throughout by the ostinato in the keyboard, which remained in one's imagination long after the evening was over, "begging" for another hearing of the entire work.
Johnny Reinhard's "Imprimatur" is a polymicrotonal concerto for solo bass trombone, woodwind quintet, and percussion. The work, obviously, was written to showcase Dave Taylor's distinctive virtuosity as a soloist. A veteran jazz and symphonic musician, recording artist, and lecturer, Dave Taylor is celebrated in the title of this work as he now adds yet another set of musical challenges to his already remarkable career.
"Ecocity," Elodie Lauten's work for woodwind quintet and percussion, struck me as having tendencies towards American 1920s-'30s neo-classicism, radically recast by its use of two microtonal tuning systems that were announced. This statement may recall Boulez's criticism of Schoenberg's use of dodecaphony for works whose gestures and forms had been set in the past, which didn't, ultimately, invalidate Schoenberg's twelve-tone compositions any more than my comment will affect the validity of Lauten's. I use it merely as a descriptive device. In Lauten's almost twenty-minutes-long work, each of the three movements treats its materials similarly, with clearly heard recapitulations of opening ideas. An atmospheric theme is set in the first two movements by percussion alone; in the third movement, by the bassoon, which later closes it. Each movement is monothematic, with slow chordal progressions. Attention to distinctions is minimal, communicating a very private, perhaps inhibited, but personally passionate involvement. However this restricted capacity to reach out to the audience makes for a tedious, if nonetheless pleasant, experience.
Joseph Pehrson's "Blackjinn," composed for woodwind quintet is based on a near-just-intonation, 21-note scale that the composer labeled "Black Jack." An attractive, relatively short, post-minimalist piece, "Blackjinn" repeats just a few simple phrases, counterbalanced by similar-sounding, somewhat eccentric, responses that together explore permutations on woodwind timbres and subtlety changing tempos. Throughout, the phrases avoid developing a rhythmic pulse–indeed, seem to purposefully eschew such definition. These transformations resolve as quietly as they began–all suggesting, along with the piece's title, the metaphor of a mythological spirit in the Arabic mystical tradition.
The final concert, on May 8, consisted of two pieces. Johnny Reinhard's work, "Semantics of Tone," like his "Zelig Mood Ring," is a solo for Dave Taylor who recites verbal ideas that are then transformed into their musical equivalents–a "play" on words and music. I will try to reproduce several of the texts Taylor recited: "'Normally people come to the park except on Sunday,' he explained in the matter of fact tone that New Yorkers use to tell you something you should already know." "'It's not hard to believe that anyone would give me a good review,' he said in a tone that was not self-deprecating but them-deprecating." "The cover of the September issue of Penthouse features twenty-year-old Vanessa Williams of Westchester,' said comedian George Burns; but inside the tone changes. Her tone could be sweet or soft, exuberant or tearful. She could scoop up to a note, shake it in a wide or narrow vibrato, slowly through a melody in undulating phrases or land on each note so firmly…," etc. Dave Taylor is a consummate performer: when he plays, his face, body, and the bass trombone become one instrument–his voice, his dance, take your pick. And when he recites as well as when he plays–having two equally virtuosic instruments–his facial accompaniment covers an expressive range that combines all the gestures of Rodney Dangerfield and Jack Nicholson, especially in the eyes.
The final performance presented what everyone should know is a twentieth-century "classic," "Seventeen Lyrics of Li Po" by pioneer microtonalist Harry Partch. While I don't pretend to be an experienced aficionado of Partch's music, I would nevertheless guess that this must be one of his most beautiful works and, maybe, his greatest work. The work is based on the poetry of Li Po, a Chinese Turk, and is set in Partch's 43-tone-per octave, microtonal scale. Partch set the poems by notating "speech melodies," intoned in the manner of a bardic storyteller. In the poetry and its sensitive settings, using "word painting" in both parts, boundaries between the power of religious and political cynicism and the power of poetry and love are often overwhelmed by suggestions of transcendental mysticism.
In this performance, the speech melody was beautifully accompanied by Anastasia Solberg on a specially tuned viola. Solberg showed great skill in playing the wide variety of timbres Partch called for from the viola, in addition to his sensitive tunings. The qualities Reinhard brought to this performance deserve special attention. First of all, although the text was not distributed to the audience, Reinhard's declamation made the words absolutely clear. His delivery was, furthermore, imaginative, sensitive, and polished. Reinhard is one of those rare performers who, possibly, by their simple demeanor, dress, and lack of polished persona, withdraw in performance and facilitate direct communication between the listener and the music–all too often the performer's interfacing function can interpose communicative barriers.
All the performances are available on the internet by going to the website of the American Festival of Microtonal Music. They are well worth a hearing–indeed, many.